Hydralic Villa Elevator
Features:
1. Auto close: Landing doors auto close
2. Automatic homing
3. Inspection travel: for controller
4. Lock elevator on main stop
5. Intercom
6. Auto close of light and fan
7. Emergency self rescue: Hand operated goes down in emergency
8. Signal control
9. No opening out of door zone
10. Opposite operation protection: phase failure protection
11. Anti slipping: with safety gear for 1:2 indirect actin9
12. Terminal switch over travel protection
13. Light screen protection
14. Emergency call
15. Emergency light
16. Lock in car
17. Overload protection
18. Auto oil temperature protection
19. Auto leveling
20. Leveling protection device: Auto re-leveling
Type classify:
1. Hydraulic Model (Concrete Shaft)
(1) Swing Door (Single Entry) A Type
(2) Swing Door (Single Entry) B Type
(3) Swing Door (90°Entry) C Type
(4) Swing Door (180°Entry) D Type
2. Hydraulic Model Villa Elevator (Aluminous Shaft)
(1) Swing Door (Single Entry) A Type
(2) Swing Door (Single Entry) B Type
(3) Swing Door (90°Entry) C Type
(4) Swing Door (180° Entry) D Type
Specification of Hydraulic Villa Elevator:
1.Hydraulic Model (Concrete Shaft)
(1). Swing Door (Single Entry) A Type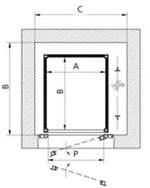 1S/1
1S/2
1S/3
1S/4
1S/5
Size/Load
A
800
800
900
1000
1100
Car
B
800
1000
1100
1250
1400
C
1250
1250
1350
1450
1550
Shaft
D
1000
1200
1300
1450
1600
P
750
750
850
950
950
Door
kg
200
250
320
400
400
Load
(2) Swing Door (Single Entry) B Type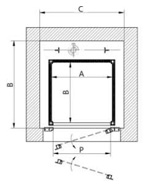 1R/1
1R/2
1R/3
1R/4
Size/Load
A
800
1000
1000
1250
Car
B
800
800
1000
1000
C
1100
1300
1300
1550
Shaft
D
1200
1200
1400
1400
P
750
950
950
950
Door
Kg
200
250
320
400
Load
(3) Swing Door (90°Entry) C Type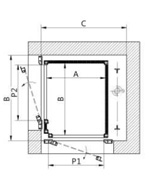 2A/1
2A/2
2A/3
2A/4
Size/Load
A
800
800
900
1000
Car
B
800
1000
1100
1250
C
1210
1210
1310
1410
Shaft
D
1010
1210
1310
1460
P1
685
685
785
885
Door
P2
685
885
900
950
Load
Kg
200
250
320
400
(4) Swing Door (180°Entry) D Type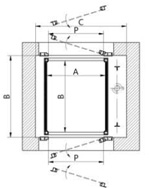 2G/1
2G/2
2G/3
2G/4
2G/5
Size/Load
A
800
800
900
1000
1100
Car
B
800
1000
1100
1250
1400
C
1250
1250
1350
1450
1550
Shaft
D
950
1150
1250
1400
1550
P
750
750
850
950
950
Door
Kg
200
250
320
400
400
Load
2. Hydraulic Model Villa Elevator (Aluminous Shaft)
(1) Swing Door (Single Entry) A Type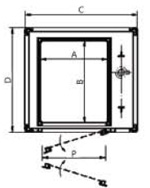 1S/1
1S/2
1S/3
1S/4
1S/5
Siza/Load
A
800
800
900
1000
1100
Car
B
800
1000
1100
1250
1400
C
1385
1385
1485
1585
1685
Shaft
D
1100
1300
1400
1550
1700
P
750
750
850
950
950
Door
Kg
200
250
320
400
400
Load
(2) Swing Door (Single Entry) B Type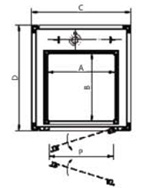 1R/1
1R/2
1R/3
1R/4
Siza/Load
A
800
1000
1000
1250
Car
B
800
800
1000
1000
C
1210
1410
1410
1650
Shaft
D
1300
1300
1500
1500
P
750
950
950
950
Door
Kg
200
250
320
400
Load
(3) Swing Door (90°Entry) C Type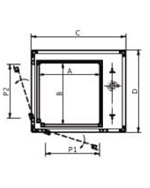 2A/1
2A/2
2A/3
2A/4
Siza/Load
A
800
800
900
1000
Car
B
800
1000
1100
1250
C
1305
1305
1405
1505
Shaft
D
1130
1330
1430
1580
P1
685
685
785
885
Door
P2
685
870
905
950
Kg
200
250
320
400
Load
(4) Swing Door (180° Entry) D Type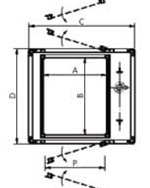 2G/1
2G/2
2G/3
2G/4
2G/5
Size/Load
A
800
800
900
1000
1100
Car
B
800
1000
1100
1250
1400
C
1385
1385
1485
1585
1685
Shaft
D
1050
1250
1350
1500
1650
P
750
750
850
950
950
Door
Kg
200
250
320
400
400
Load
SHANGHAI Lantytk® CORP. is a professional hydraulic villa elevator (villa lift) manufacturer that integrates the research, development, sales, installation, repair and maintenance into one. The company passes ISO9001: 2000 quality system certification. Other then hydraulic villa elevator, we also supply traction type villa elevator, passenger elevator, observation elevator, bed elevator, automobile elevator, freight elevator, hydraulic elevator, escalator, moving walk. If you need villa lift, please contact us.
Related Products
Traction Type Villa Elevator1. Automatically opening in commanded floor
2. Door hold open time
3. Automatically door opening
4. Door close button quick close ...