Passenger Elevator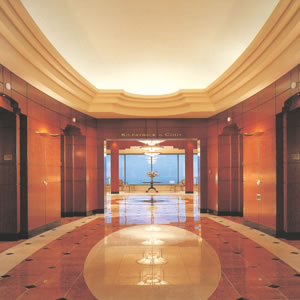 Passenger Elevator
Lantytk® CORP. is a premier passenger elevator manufacturer in China. According to different speed, our V8 luxury passenger elevator can be divided into high speed elevator, low speed elevator, and medium speed elevator.
Our V8 passenger elevator is specially-designed for high-end commercial buildings and top-ranking residences. Adopting permanent magnet synchronous motor gearless drive system and top-grade components, our passenger elevator is more energy efficient, comfortable, and quieter.
A passenger elevator is a vertical transport vehicle built to move people between a building's floors. It is specialized for the service it performs, such as hospital emergency, front and rear entrances, double decker, and other uses. Commonly used elevators include pneumatic vacuum elevators, cable-borne elevators, hydraulic elevators, mine shaft elevators, and more. Today, passenger elevators usually use cable-borne elevators for high safety.
Standard Design
Suzhou DHT Elevator standard car is of simple and fashionable design, which is harmonious with various building styles.
1. Three types of frame are available to suit different building conditions.
2. Car wall is aesthetically patched with stainless steel and spray-powder steel.
3. Ceiling is optional in standard styles.
4. The platform is high-quality plastic floor, or reserve space to lay down stone plate according to host's favor.
Optional color patterns of standard car and landing doors V8 Main Configurations
Permanent magnet synchronous motor gearless drive system, with conversion efficiency reaching 100%.
Special gearless lift-use transducer, being of high intelligent fuzzy logic control function, real time supervision of running curve and arbitrary connection with computer network
The latest Suzhou DHT Elevator modular intelligent control system for serial communication information disposal, which can realize remote monitoring and management
New type permanent magnet synchronous closed loop frequency conversion timing door machine system Door infrared ray curtain safety protection device
Fashionable and graceful 2.6 m lift car
Standard Specification of V8 Passenger Elevator
| | |
| --- | --- |
| Load(Kg) | 400, 550, 750, 900, 1000, 1150, 1350, 1600 |
| Speed(m/s) | 1.0, 1.5, 1.75, 2.0, 2.5, 3.0, 3.5, 4.0 |
| Most Stops | 60 |
| Max. Journey | 160m |
The car and landing door of V8 passenger elevator have been heightened with special design:
1. The car has been lengthened from standard 2.3m to 2.6m;
2. The landing door has been lengthened from standard 2.1m to 2.2m.
As a professional passenger elevator manufacturer in China, we manufacture a complete line of standard and custom designed elevator systems. Due to their reliable performance, great durability and long lifespan, our passenger elevators, residential elevators and commercial elevators are well received in Philippines, Bangladesh, Uzbekistan, Saudi Arabia, Albania, Russia, Nigeria, South Africa, India, and more.
Lantytk® CORP.is a professional elevator manufacturer in China, and its main products are villa elevator, passenger elevator, observation elevator, automobile elevator, freight lift, escalator, and moving walk. The company is located in Wujiang. Suzhou City, Jiangsu Province, China. Wujiang is the intersection of Jiangsu Province, Zhejiang Province and Shanghai City. It has the charming scenery and transport facilities. It is close to Hongqiao International Airport. Welcome global elevator purchasers to contact us and try our products.