Machine Roomless Elevator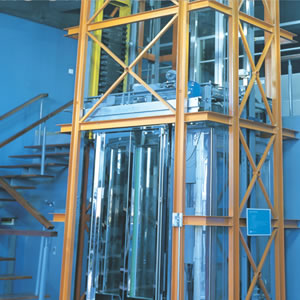 Machine Roomless Elevator
Lantytk® CORP.is a professional elevator manufacturer in China, and its main products are villa elevator, passenger elevator, observation elevator, automobile elevator, freight lift, escalator, and moving walk. The company is located in Wujiang. Suzhou City, Jiangsu Province, China. Wujiang is the intersection of Jiangsu Province, Zhejiang Province and Shanghai City. It has the charming scenery and transport facilities. It is close to Hongqiao International Airport.
A machine roomless elevator is also referred to as MRL elevator. As its name suggests, it is an elevator that doesn't require a machine room. Therefore, this elevator system greatly saves space. Adopting permanent magnet synchronous drive technology, it is more energy efficient, eco-friendly, with high motion precision.
We are a professional machine roomless elevator manufacturer and supplier in China. Our V8-M machine roomless elevator is based on the most advanced traction technology, integrating high technical performance of V8. This elevator can simplify building design, efficiently use space and save constructing cost.
Standard Design
Suzhou DHT standard car is simple in design and fashionable in style, being able to well fitting your buildings' styles.
1. Car wall is reasonably patched with stainless steel and spray-powder steel.
2. Ceiling can be chosen from standard styles.
3. The platform is high-quality plastic floor, or reserve space for stone decoration according to host's favor.
Standard Specification of V8-M Machine Roomless Elevator
| | |
| --- | --- |
| Load(Kg) | 400, 550, 750, 900, 1000, 1150, 1350, 1600 |
| Speed(m/s) | 1.0, 1.5, 1.75 |
| Most Stops | 20 |
| Max. Journey | 60m |
Optional color patterns of standard car and landing doors
Standard Mode
1. CB-S integrated control panel
2. DV-VS external call box
3. S-shape standard button
Optional Combination
1. DV-S, DV-C indicator
2. DB-S, DB-C call box
3. C-shape optional button
24-hour Hot Line Service
To provide convenient and prompt maintenance service for customers, Suzhou DHT Elevator established a 24-hour service center and set up a toll free 800 require hotline. Our skilled maintenance technicians will answer your questions and assist you in troubleshooting immediately. The remote monitoring system using advanced data network and microcomputer processing technology can perform 24-hour remote electronic monitoring on elevator, thereby helping predict the potential hazards and fulfill preventative maintenance service. This greatly improves the operation quality and safety of the elevator.
DHT Elevator Co., Ltd. is a backed with high cost performance and the distinctive managing concepts. The products are well-received by vast customers because of the flexible sales policy and the humane service. The company is developing in leaps and bounds. The company passes ISO9001: 2000 quality system certification.
Besides MRL elevator, DHT Elevator Co., Ltd. also produces panoramic elevator, home elevator, and freight elevator etc. To satisfy your specific requirements, custom elevator is also available.
Please feel free to contact us if you have a need for our elevators. Thank you!